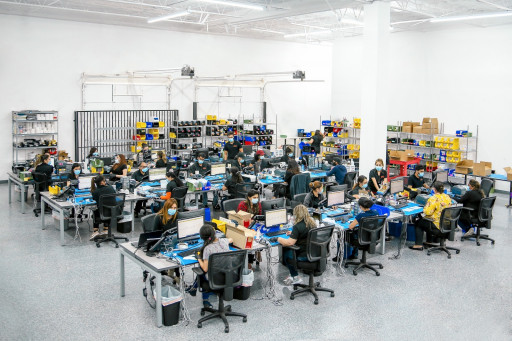 Helping Organizations Reclaim More Value From Their IT Equipment and Mobile Devices
IRVING, Texas, June 7, 2023 (Newswire.com) - Elite Supply Chain Solutions, a leading reverse logistics provider of consumer electronics, is thrilled to announce that it has recently achieved R2v3 certification, the latest standard for responsible recycling practices in the electronics industry. This milestone highlights Elite's commitment to safeguarding the environment from electronic waste and maintaining a high-quality operation while processing its products.
The latest version of the R2 (Responsible Recycling) standard defined by SERI (Sustainable Electronics Recycling International) recognizes organizations that meet rigorous requirements for environmental and public health, data security, and overall quality of service. Elite Supply Chain Solution's achievement of this certification not only ensures responsible recycling and data destruction services but also provides its clients with the reassurance that their used electronics will be handled in a manner that preserves the environment and protects their sensitive data. Data security is of paramount importance to Elite's clientele in the healthcare, education, and government sectors.
"This certification is a testament to our continuous commitment towards sustainable practices," said AJ Jamal, CEO of Elite Supply Chain Solutions. "It underscores our dedication to providing our clients with secure solutions for their sensitive data and also assisting in their carbon-neutrality."
This year, Elite will be showcasing its progressive strides at the Mobile Disrupt conference in Las Vegas on June 14-15. As an exhibitor, the company plans to highlight its newfound focus on IT Asset Disposition (ITAD) services. ITAD is a business built around disposing of obsolete IT equipment and mobile devices, maximizing value recovery while ensuring data security and environmental sustainability. Clients can expect to receive comprehensive solutions for their decommissioned IT assets, aligning with their corporate social responsibility (CSR) goals and mitigating potential legal and environmental risks. Elite will also be using Mobile Disrupt as a platform to expand its wholesale division into emerging markets.
If you are attending Mobile Disrupt, please visit Elite Supply Chain Solutions at booth D06-D07 to learn more about its ITAD and wholesale services. If you would like to schedule a meeting at the conference, please reach out via the included contact information.
About Elite Supply Chain Solutions:
Elite Supply Chain Solutions is a trailblazer in reverse logistics of consumer electronics, providing businesses with sustainable solutions for their IT and mobile needs. With a commitment to quality, security, and environmental responsibility, Elite Supply Chain Solutions is dedicated to helping its clients manage and remarket their technology assets in the most effective, secure, and eco-friendly way possible.
Contact Information:
April Garcia
Executive Assistant
[email protected]
(214) 956-0500
Related Images
Original Source:
Elite Supply Chain Solutions Achieves R2v3 Certification
Technology - Licht Journal originally published at Technology - Licht Journal