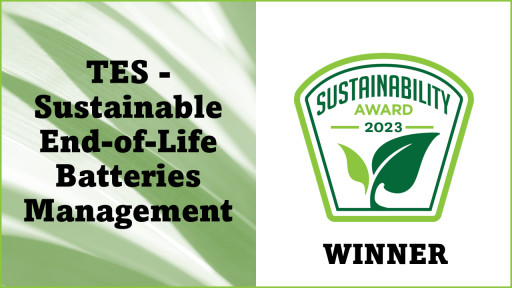 SINGAPORE, August 31, 2023 (Newswire.com) - As part of the 2023 Sustainability Awards program, the battery recycling service of Singapore-based TES was named today by the Business Intelligence Group as a Sustainability Service of the Year. The Sustainability Awards honor people, teams, and organizations worldwide that have made sustainability an integral part of their business practices or overall missions.
The Sustainable End-of-Life Batteries Management service offered globally by TES deploys the company's expertise in waste compliance and hazardous goods regulations to analyze and design customers' end-of-life battery needs. Batteries directed to TES facilities go through a recycling process that uses proprietary in-house technology to recover and recycle up to 99% of battery materials, yielding a high-quality black mass that recovers nickel, lithium, and cobalt for reuse in the forward manufacturing supply chain.
"This honor is attributed to the diligent team at TES, who has worked toward ensuring that our customers' end-of-life batteries from electric vehicles and other applications are handled responsibly with industry-leading recycling outcomes," says Thomas Holberg, TES's Group Vice President—Sustainable Battery Solutions. "TES and our parent company, SK ecoplant, continuously invest in technology to be the world leader in battery recycling."
"We are proud to recognize and reward TES for its sustainability efforts," says Maria Jimenez, Chief Nominations Officer of the US-based Business Intelligence Group. "It was clear to our judges that their vision and strategy will continue to deliver results toward a cleaner, more sustainable world. Congratulations!"
About TES
Since our formation in 2005, TES has grown to become a global leader in sustainable technology services and bespoke solutions that help clients manage the commissioning, deployment, and retirement of technology devices and components.
We provide comprehensive services for technology devices throughout their lifecycles—from deployment to decommissioning to disposition—all the way through to recycling and end-of-life repurposing. This includes innovating new processes to leverage the value locked in assets if they are to be recycled, such as our proprietary lithium battery recycling process, which extracts scarce materials from used batteries at purity rates high enough that they can be reused in the manufacturing supply chain.
We have made it our mission to make a decade of difference by securely, safely, and sustainably transforming and repurposing one billion kilograms of assets by 2030. Our 40 owned facilities across 21 countries offer unmatched service-level consistency, consistent commercials, lower logistics costs, in-region local compliance experts, support in local time zones and languages, and a deep understanding of the global transboundary movement.
About SK ecoplant
The business model of SK ecoplant is an eco-friendly ecosystem platform that links its technologies to humans, the environment, and finance. SK is building sustainable lifestyles with our creative solutions and advanced technologies, offering answers to current problems and sowing the seeds for a better future.
SK ecoplant is building a financial story that manifests our commitment to a new future. As proven by our acquisition of a leading company in the environmental industry, we are taking steps to achieve our goal of becoming "Asia's leading environmental business by 2023," with clear, concrete mid- and long-term strategies for each business sector.
Contact Information:
Maria Jimenez
Chief Nominations Officer
[email protected]
1 909-529-2737
Eric Ingebretsen
Group Chief Commercial Officer
[email protected]
Original Source:
TES Awarded for Global Sustainability
Technology - Licht Journal originally published at Technology - Licht Journal