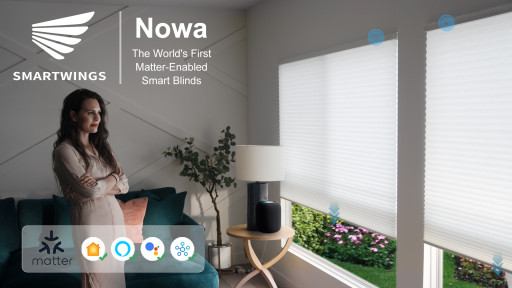 AUSTIN, Texas, July 25, 2023 (Newswire.com) - Step into the future of smart home living with SmartWings Nowa, the world's first Matter-certified cellular shades. Having officially made its debut on Indiegogo on July 19, the SmartWings Nowa marks a new chapter in the realm of smart shades that combine elegance with state-of-the-art technology.
Designed with modern convenience and style in mind, the Nowa shades are especially appealing to tech enthusiasts and lovers of home interiors who are in the age range of 25 to 55 years. They come with Matter technology, offering seamless integration across various smart home platforms such as Amazon Alexa, Apple HomeKit, Google Assistant, and SmartThings.
Beyond smart home compatibility, the Nowa shades offer unparalleled thermal insulation and noise isolation. The unique honeycomb structure reduces the heat exchange between windows and indoor air, providing optimal temperature regulation. This feature not only makes homes more comfortable but also contributes to energy conservation.
SmartWings Nowa also brings the luxury of custom-made shades. Customers can tailor their shades to fit their unique aesthetic and functional requirements, further enhancing the user experience.
The pre-launch phase of SmartWings Nowa has successfully concluded. To stay updated on the product's journey, visit https://www.indiegogo.com/projects/smartwings-nowa-world-s-first-matter-smart-shades#/
With a deep-rooted passion for innovation and a highly experienced R&D team, SmartWings is bridging the gap between the intelligent needs of customers, brands, and developers. Our commitment to improving the functionality of motorized shades and making consumers' lives easier has driven us to launch the SmartWings Nowa. Our goal is to foster closer family bonds by sharing the joy of smart control, safeguarding privacy, adapting to complex weather conditions, and seamlessly fitting into daily life.
Contact Information:
Rachelle Clement
Sales Representative
[email protected]
+1 877-762-7861
Original Source:
SmartWings Unveils Nowa: The World's First Matter Certified Smart Shades
The post SmartWings Unveils Nowa: The World's First Matter Certified Smart Shades first appeared on Type Magazine.
Auto & Technology - Type Magazine originally published at Auto & Technology - Type Magazine